It's Friday. Maybe you're exhausted from this first month of school.  Maybe you're excited about what you might do with your family as the fall is easing into view in the weather and on the calendar.  Either way, I want to encourage you to think about getting outside with your littles and enjoying God's beautiful gifts of Creation.
Whether you take them to the park, the beach, or the school playground, getting outdoors is an important part of childhood.  Having adventures together as a family is fun and memorable.
We're a camping family.  Ever since the boys were babies we've camped.  They loved to go up the coast into the redwoods. They loved to camp near the beach to go boogie boarding.  They loved campfires (building and lighting, they're boys after all) and especially loved the eventual s'mores.
We got the wild idea in the spring of 2001 that we should take the boys out of school (WHAT!!??) and camp around the country; giving them a taste of the grandeur and immensity of this nation.  We planned for months! We taped a map on the wall and let the boys put map pins on the places they wanted to see.  The Hubster and I added our own pins, too. We researched destinations and estimated costs; plotting a course that would circumnavigate the lower 48 states.
And we did it in this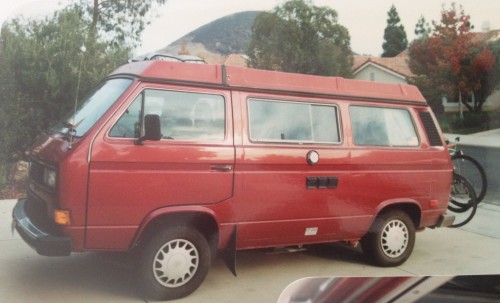 This trip was pre-smart phone and google maps.  We had a gps and a phone that would connect to the internet via dial up modem (ancient tech history) which worked 1 out of 10 times!
We camped on average 5 out of 7 days; stopping to visit family and friends around the country.  We listened to music, sang songs, hiked beautiful trails, saw amazing vistas, met wonderful people and most of all, made memories.  Seeing historic places first hand, rather than in books, made a huge difference in appreciation of what the Minutemen had to go through or why the battle at Gettysburg cost the lives of so many.  Both of our sons grew up loving history; due in part to this trip of living history.
Like labor & delivery, there were hard parts but the good outweighed the bad.  We got one speeding ticket (seriously? in a fully loaded VW?); had a few emotional meltdowns (mom hates wind, bridges and semi-trucks); but were blessed with no mechanical issues and almost a completely healthy trip (dad got an ear infection).
It wasn't always neat and tidy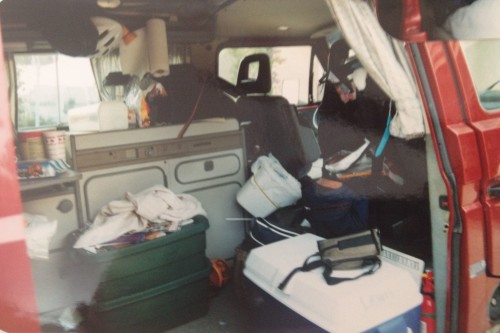 but the four of us managed to live in here and get along for the months of September and October of 2001.  Our sons were 13 and 6. Yes, that is a 7 year gap. In school they wouldn't have see one another; too many years between them. But on the road trip they learned together, had fun together, argued about space together, and learned to resolve conflict without being sent to their rooms.  We read the Bible together, talked about God's creativity as we witnessed so many different rock formations, rivers, trees, and people.  He covered our trip with favor in the midst of one of our country's greatest tragedies: the bombings of Sept. 11.  We were drawn closer together as a family through the aftermath; we had just visited Mount Rushmore the night before and were headed east.  We saw people of our country come together to pray in places you wouldn't have imagined like the parking lot of the Mall of America in Minneapolis for a candlelight vigil.  We went to church in places around the country and worshiped with strangers but didn't feel strange.  Our trip was unique for many reasons but the timing in history makes it standout to this day.
This scrapbook journal box says it all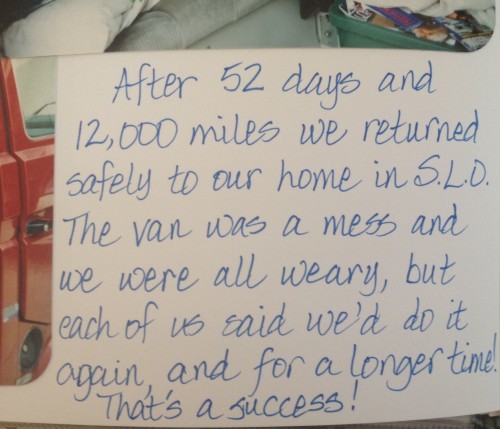 You may not be ready to hit the road yet.  Camping isn't easy for everyone I know.   I may not have convinced anyone to pack up right now, but I hope you'll consider camping as an option for fun things to do with your family.  Get together with another family as I mentioned in my earlier post.  Go to a local county park so you're close to home in case something happens that you feel you can't handle (health issues, sleeping bag wetting, etc.).  At least give it a try!
Do you have a success story to share?  Encourage another family by commenting!