There are two sports teams our family follows; one college and one professional.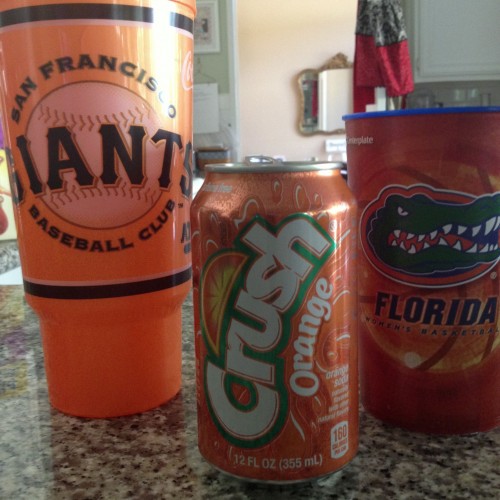 We sport our colors. Our decals. Our flags. We can get a little animated.  Loud. Dare I say, fanatic about our teams.
But that's what fans do. They participate.  Support. Cheer. Are faithful regardless of the wins.
Our Florida Gators have survived and advanced to the Final Four of March Madness.  It's great to be a Florida Gator.
Today is Opening Day for the 2014 MLB Season.  Our SF Giants theme this year: Stronger Together.
You may not like either of our family's team choices.  That's ok.  You may have a team or teams you prefer.  That's ok too. You may not be a sports fan at all. And that is also perfectly fine. (although my instagram, facebook and twitter feed may annoy you in the coming weeks)
Regardless of your sports preference, all fans and the rest of the world have something in common.
A need for belonging.
We're wired for a sense of community.  Regardless of culture, socio-economic factors, country of origin or gender, we are wired for the need to belong.  We want to belong within a family. We show our desire for belonging  in so many ways: neighborhood gatherings, organizations we join. In ways we serve others. Community activism. Knitting groups. I'm sure we can name a long list to prove this point: we all want and need a sense of belonging.
I used the word "wired".  I really believe that we are hard-wired to belong and need to connect with others because we are all created in the image of our Maker.  He is in perfect community within the Trinity: Father, Son and Holy Spirit.  He has made us needing community because we bear His image; regardless of whether we acknowledge His existing Presence or not.
And regardless of our acknowledgement, He reached out to us to bring us into community with Him.  Because of His great love for each one of us.
So we need to seek community.  When we don't have a sense of community, we can spiral downward and out of control.  It doesn't take much searching to see the devastating results of extended isolation or rejection from community.  The news stations report the results daily.  On our own without a God-oriented life we can lose our way and get off in the weeds.  But when our sense of belonging is re-calibrated into God-centered community every other aspect of life begins to re-calibrate as well.  We don't suddenly become a different person, we slowly become a more obvious image bearer.  Christian terms call it Christ-likeness.  We won't ever become Jesus, but over the course of our with-God life, our community life becomes more about others and less about self.
So whether you are cheering a team on today's Opening Day or are sad your alma mater's team didn't make it to the Final Four or even if sports are off your radar altogether, you are an image bearer. The imago dei.  You belong.
Oh and Go Giants!  And Go Gators!
If you haven't yet reconciled all of life into a with God life, I'd love to talk with you more.  All comments are moderated by me before publication so you may contact me here without anyone else seeing your comment first.