I had the most amazing gardening experience ever!  If you're not into gardening, that's ok, it wasn't super technical but there is a great story so bear with me.
A week ago our son graduated from Biola University.  We don't live in the LA area so attending his graduation meant traveling down a day ahead.  Since we were going to be down there anyway we had made plans to be gone the whole long holiday weekend.
We left on Friday afternoon.  If you're a mom you know how much preparation goes into getting ready to leave; for me it includes surveying the garden for potential issues that might need attending to before leaving.  All was in order so we were good to go.
It was a wonderful graduation; made this Momma very proud!  But I digress; the event is not the focus of the gardening experience!
After returning home four days later, I went out to survey the garden.  I found one of the giant sunflowers lying down in the middle of the cantaloupe and watermelon plants.  It hadn't been uprooted so I knew I could stake it up and it would be okay.  That's not the amazing part.  I'm getting there.
I wish I had thought to capture this with a photo.  While it was lying there on its side for 3 -4 days, the head of the sunflower, not yet in bloom, had turned itself upward toward the sun.  The stalk of the sunflower had to twist itself around in order to face upward.  When I staked the plant up it was crooked and the head was facing the wall behind the plant.  This would be a gardening experiment for sure.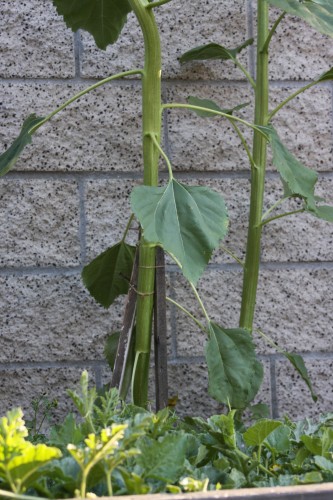 One week later, this is what the plant looked like: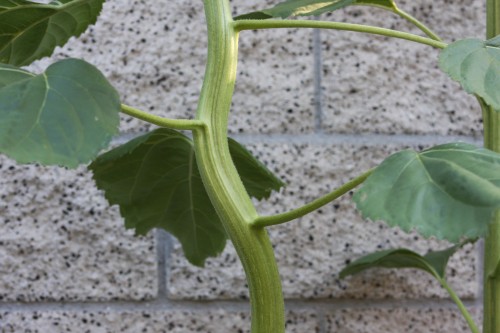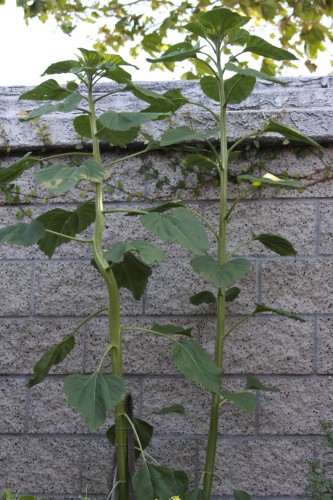 I have gleaned a lot of metaphors from this gardening experience.  As another experiment, I'd like to hear from you!
What life lessons do you recognize from my amazing gardening experience?
I'll share mine tomorrow!