Life lessons unfold while watching plants grow.  I don't mean literally watching all the time. I have a life outside of the garden! But seriously, there's wisdom we can glean. I've witnessed how perseverance trumps perfection.
In the spring, on a whim I threw some sunflower seeds in the ground shortly after we moved into our latest rental. I say latest because I've begun to realize all things are temporary and some things shorter than others. So I might as well try to make a garden grow. Somehow gardening gives me hope.
Seven of the seeds sprouted. They fought their way through the not so great soil managing to take root. When they were about 3 feet tall I noticed their leaves had some holes in them. A farm girl I know told me to get some bone meal and put it around the base of the plants; it would deter the bugs that were evidently enjoying the tasty leaves. Being a dutiful learner I bought said bone meal, sprinkled it around and kept an eye out for the bugs.
I pictured tiny bugs being thwarted from their diabolical plant eating plan. Instead? I witnessed a surprising pest: a goldfinch! Who knew? Sunflower leaves are dessert for them.
These birds tried to destroy the sunflowers. So many leaves were chewed up I thought for sure the plants would die. They looked shredded and unsightly. I tried wire mesh to encircle the plants but I couldn't keep the birds away.
Then out of nowhere a feral mama cat and her three kittens began visiting our quiet, secluded backyard.
They circled around our yard twice a day. I think the beautiful bird feeders with 20 or so finches consuming birdseed got the mama cat interested in our yard. The kitties watching birds began to protect the sunflowers from getting picked and pecked. Better pest control than I could have planned!
While the wild cats have been growing, so have the sunflowers. The early leaves that appeared to certify the demise of the plants were left behind and new strong leaves unfolded as the plants grew taller.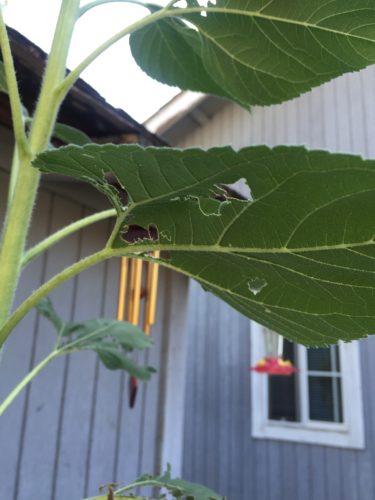 I had considered saving more precious California water to let the shredded sunflowers die. Instead, when new leaves sprouted I kept watering, waiting to see what might happen with this gardening experiment.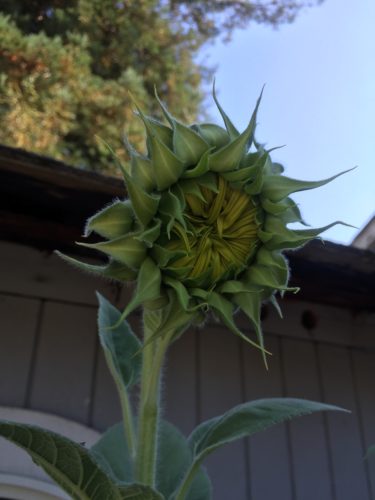 This isn't my first foray into sunflower growth. In our longtime home I grew sunflowers and learned some lessons there too. But these sunflowers? I learned 3 important lessons that may help you, too.
1.) Growth takes shape over time with intention. Don't give up when you don't get the immediate result or it doesn't look like you expected.
2.) Play the part you have been given. We're not meant to make perfect things or be perfect people. The way something (or someone) looks at first may not be the way it looks when finished.
3.) Do the work and leave the results in God's capable hands. So often we start something and have an expectation of how it's going to turn out, don't see the immediate results and then give up in frustration or disappointment. What if what our role is simply to start, persevere in doing the work and then Trust?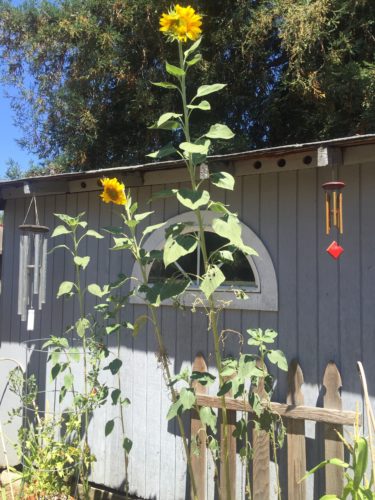 "For I know the plans I have for you," declares the Lord, "plans to prosper you and not to harm you, plans to give you a hope and a future."
I've been watching these grow 5 months. That's a very short time in light of eternity. But in our fast paced nano second results driven culture 5 months is FOR.EVER. I'm recognizing how vital time, intention, work, perseverance and especially trust really are for all aspects of life, but especially in letting go of the old dysfunction of perfectionism.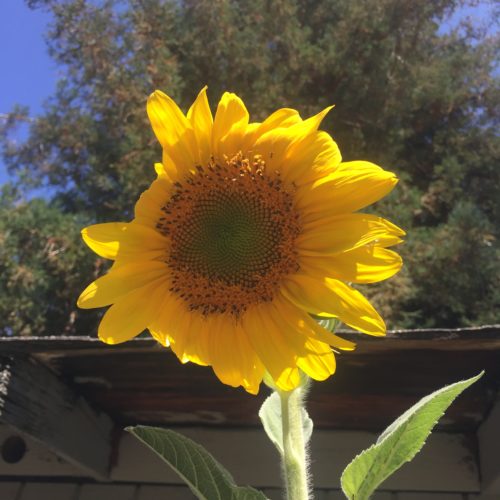 Perseverance trumps perfectionism. Every time.