I had something gently pointed out to me three different ways between yesterday and this morning.
All three were foundational and revealing.
Perfectionism keeps me from Jesus.
Yesterday demonstrated what a piece of work I am. Fault finding, critical, irritable about everything. Wanting to have things go the way it should go. And at the time I didn't mind sharing all my angst with the entire world; most closely noticed by the Hubster and our collegiate son. Not fun for anyone.
Perfectionism is the outer shell trying to appear to have life all together. All the while the inner world is filled with insecurity, uncertainty, and sometimes shame. Perfectionism is me trying to fix myself, control my circumstances and rely on my own understanding.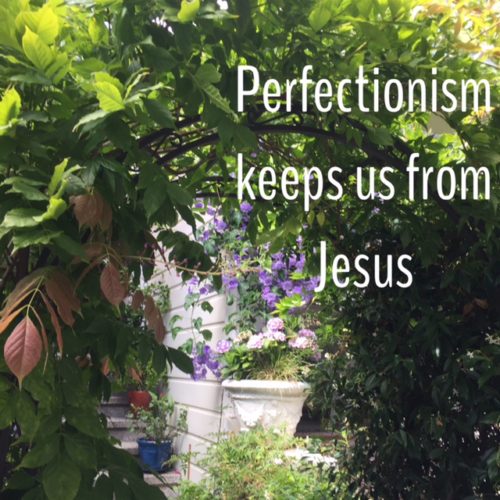 Before the end of my emotionally chaotic day the Spirit whispered to me; inviting me to confess my failed attempts at keeping myself together while my toxic feelings leaked out. I took Him up on that invitation, pressing the RESET button for the remainder of the evening after a tearful confession of my internal struggles that impacted the external.
This morning I read Jesus Calling and it reminded me not to try to present my cleaned up self to Jesus; "wounds that I shut away from the Light of My Love will fester and become wormy…they can split off and develop lives of their own…"
Then I also read My Utmost for His Highest entry for today.
'If I can stay calm, faithful, and unconfused while in the middle of the turmoil of life, the goal of the purpose of God is being accomplished in me. God is not working toward a particular finish—His purpose is the process itself."
The foundation is Jesus. He is here with me and there with you all.the.time. The foundational truth is based in His one invitation:
Come to Me.
That's it. In the turmoil of unresolved issues that foment emotional upheaval we can find rest for our souls. Click To Tweet
I don't have to try to fix me or my circumstances. Neither do you.
Whatever you are facing, the Perfect Invitation awaits your response.
Come to Me.
Your circumstances are not likely to change. I know, bummer.
But here's the miracle: you are offered the opportunity to be changed from within by the Presence of God Himself. That's what spiritual formation is like. Choosing to say yes to Jesus's invitation to come to Him, quiet your mind, heart and soul and be at rest in His Presence. The coming to Jesus results in His peace that passes all understanding. This peace is a result of letting go of our idea of how things should be and leaning into the yoke that helps keep us in step and keep company with Jesus.
Relax. He's got this. His purpose is the process itself.
*Sigh*
Where have you seen perfectionism get in the way of relationship with Jesus and others?