It may be Wednesday but my mind keeps circling around to this past weekend. Does that ever happen for you?
The images and words are floating around like an undercurrent below the surface of the everyday life I've led these three days since the weekend. As they have been drifting around in my head, I recognized this morning the thoughts focused on 3 vital statistics that I learned from the (in)RL conference.
1. Time alone with Jesus is a precious commodity
2. Having an authentic community takes intentional investment
3. Being in community is both risky and messy
Let me unpack these a bit.
1. Time alone with Jesus is a precious commodity
I am in the season of post parenting or commonly referred to as 'the empty nest'. This season is full of possibilities as well as the bittersweet. Letting go of what was must happen in order to be open to whatever may come. Being ok with the unknown happens when you know the One who holds the future. And, like any relationship, it is only as strong and vibrant as the time you invest. I have to get real with Jesus to let Him have influence in my life. The same is true for you.
What time priorities can you re-arrange to make time with Jesus the priority? Notice I didn't say 'quiet time' or 'Bible study' only. Those are methods of getting to know Jesus and they are important. I'm talking about inviting Him into your life, your consciousness, within your day. Making Him a time priority.
2. Having an authentic community takes intentional investment
If you've stopped by the blog before you know I'm new to the area where we're currently living. One of the things I saw through the stories of the women interviewed for (in)RL was having an authentic community takes intentional investment. I could continue to whine to my hubster or to Jesus or to longtime friends OR I could be intentional about making investment in this new area. I had that beautifully modeled for me this past Sunday when I went to another church we hadn't yet visited. I made myself go up to the Welcome Center to introduce myself, telling about my relocation and lack of community. God met me there through the gracious and warm welcome of the woman whose turn it was that day to 'welcome' visitors. In my telling a bit of my search for community, she asked for my contact info because she wanted to connect with me to talk more. Later that evening she emailed me and we made a date to walk and get to know each other. Yesterday's walk and talk was balm to my needy soul.
3. Being in community is both risky and messy
Newsflash: People are broken and messed up! And so are you! There isn't a place where all the people are emotionally and spiritually mature. Everyone has some type of issue to work through. And we're all in process. Now that I've burst your bubble of plastic-smile-everything's-fine-Christian-life, what do we do with this information? We have a choice. We can continue to hide our real life from others and pretend we have it altogether or we risk being vulnerable. Being in community is both risky and messy. Hearing what really is going on in someone's life requires something of you. Investment in their well-being. And that brings on the messy and the risk. You could get burned. Or hurt. The same is true of you sharing your real stuff. You could be rejected or ridiculed or judged or … But the real life you live is vital to God and in His hands can be used for His glory and others' good.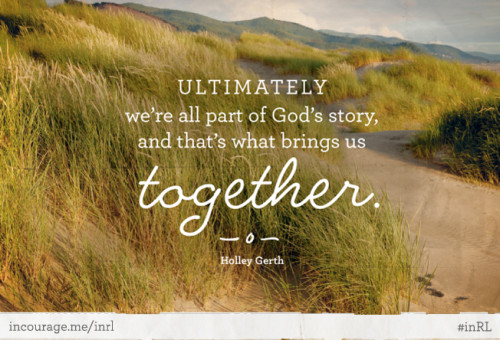 This life is hard. Our stories matter. Your story is needed in the community where you are right now. In this community right here. So many of you as readers don't take the time to connect here. Your thoughts and responses can help others who stop by here too. I see them all before approving them so even in your comment you can ask me not to publish it and I won't. But connection in community in real life is more important than a comment on a blog.
Where are you investing? Where are you risking being vulnerable?