There are few things I love to do daily.  In this short list is read. Book lined shelves grace each room in our home. The overflow books live in the garage; still accessible, waiting to be pulled down again.  Old books, new books.  Living authors and those who have gone ahead. Making time to read is vital for me. Words inspire. They instruct. Words shape my thoughts and imaginations. Often I am drawn to words written to encourage.
One author I count on for encouraging words is Holley Gerth.  Holley is an encourager.  She writes as if she is sitting across the table speaking words of comfort: "We're in this together".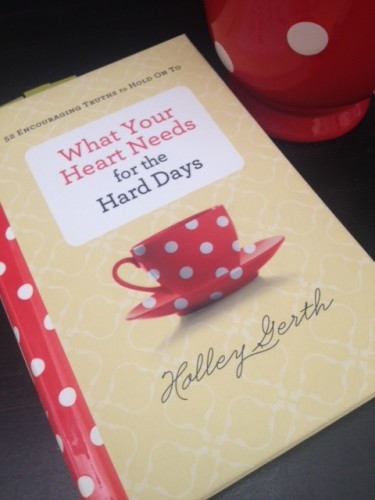 When I received my copy of her latest book,         What Your Heart Needs for the Hard Days, I grabbed my own red & white polka dot cup, filled it with coffee and dove in with great anticipation.  I was not disappointed.
Holley has used portions of the Psalms to pen 52 unique, encouraging illustrations of 52 Truths.  Each one points our hearts to God who loves us best.  Every entry title begins with "God…".  Each one ends with a personal prayer that Holley calls "What my heart is saying to You".  She also has included a space for you to write a response which is called "What my heart is hearing from You".
Now mind you, lots of people write and say encouraging things. Or at least they mean for them to be encouraging.  Sometimes the timing is off; especially on the hard days.  That's what is so meaningful about Holley's writing; she is honest about hard days.  You won't find her telling you to simply pray harder or keep a stiff upper lip.  Holley is real with struggles to trust God, to find joy in tough circumstances.  But her honesty doesn't point us to our circumstances; she points us to the Truth.  Acknowledging the hard and embracing the Truth.  What a beautiful combination.
I wasn't far into the book before I sighed aloud over what I read:
You, Lord, hear the desire of the afflicted; you encourage them, and you listen to their cry.  Psalm 10:17
I have felt afflicted.  Haven't you?  Holley writes: "When the day seems difficult, when you're weary, when you feel like a failure…God is encouraging you."  She speaks honestly about many very real issues: depression, limiting beliefs about God, how we're prone to criticism of ourselves and others, and in each hard topic she points us to God's Word in the Psalms.
Such comfort.
Such encouragement.
I know sometimes it's hard to receive encouragement.  Being in a hard place can be so dark a little bit of light is hard on the eyes (or ears).  Holley makes the Light practical not preachy. In #32 God Will Ease Your Anxiety she explains the physiology of how our bodies respond to anxiety and joy. Not in a heady science way but simply the practical stuff.  And she points us to God.  "God doesn't take us from anxiety to calm. He can actually take us from anxiety to joy.  How does he do that?  Truth can switch the track in our minds. When we remember what God says, we change courses from thoughts that lead to anxiety to those that can instead lead to emotions like courage and even celebration." Practical. Encouraging.
Reading Holley's words I imagine hearing her warm, soft voice speaking them to me.  She is an author who writes in her own voice. I had the privilege of hearing her speak encouraging words at She Speaks 2013.  Holley is as sincere in person as she is in her writing.
Her latest project is available now.  Get two copies.  One for a friend and one for yourself.
It's what your heart needs for the hard days.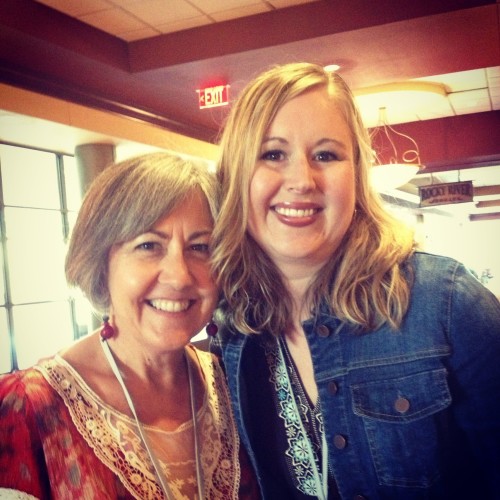 "What draws people to be friends is that they see the same truth. They share it."
― C.S. Lewis