Don't we often want to know what's around the corner in life?  I think that's why we make plans. We have something to look forward!
I've been planning blog posts instead of writing them. I've done lots of composing in my head but not so much here on the blog. Why? Well in part, I've allowed myself to focus too much on circumstances instead of the One who holds it altogether.
In Proverbs we read: the heart of man plans his way but the Lord establishes his steps.
I'm excited to share how the Lord has been establishing my steps. I'm going to share a blog series here for the 31 days of October.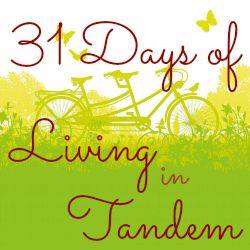 I'll be joining over 1000 other writers who'll be sharing their passions on their blogs.  So many categories, so much fun, so much learning and so much encouragement!
There will be live links to the Write 31 Days curator page where all the bloggers will share their individual link buttons.  I really hope you will consider visiting some bloggers you haven't come across before.  There are amazing writers with some really interesting series topics that I think many of you will enjoy.
It all begins in only 11 days!!!