I had the privilege of being a Story Hour reader at a local coffee shop on Thursday. It wasn't a last minute thing; I knew about it 5 weeks in advance. I was so excited to get to share stories and songs with little people again!
I took myself to the library in our new community, applied for a library card and proceeded to spend  over an hour browsing their extensive collection of picture books. So many beloved stories caught my attention; books I had read to hundreds of children through my teaching career took back to the joy of reading aloud. Titles of Caldecott medalists I collected for my own sons also brought great joy in the memories of snuggles for stories. But I had a theme in mind as a way to choose the books, just in case there were many preschoolers as well as toddlers.
You might think toddlers? Story hour? Not a good mix! But let me say, Try It!
This is our 11 month old grand-daughter enjoying (and copying) the book Ten Tiny Toes.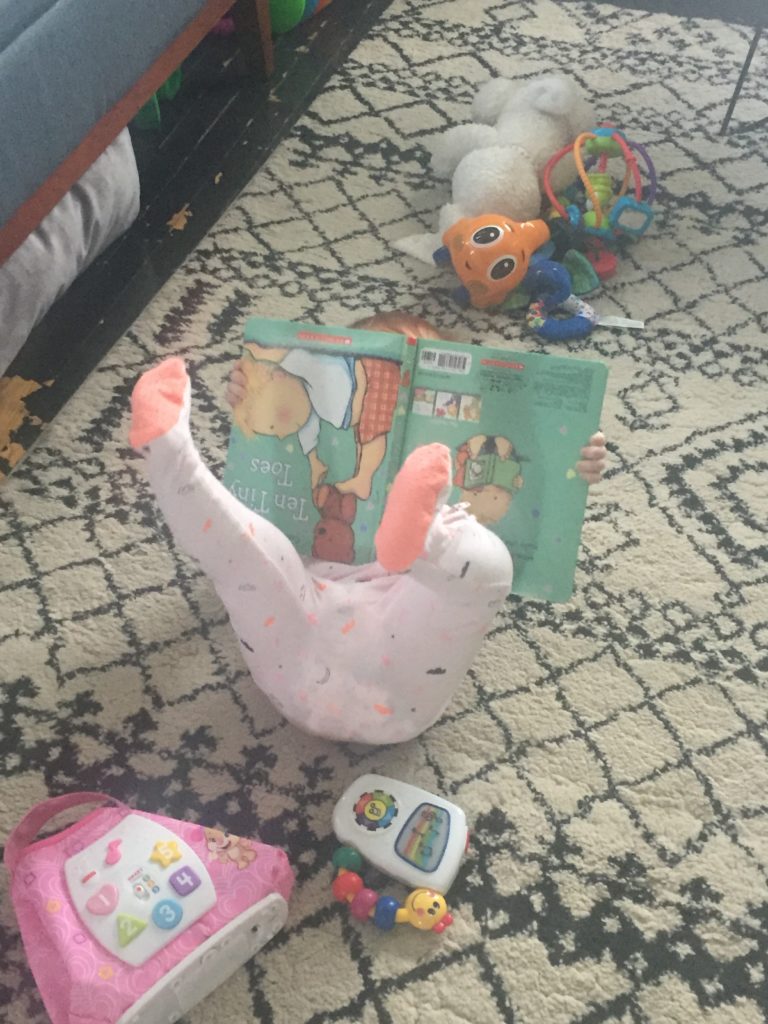 Learning to love books starts early. Reading aloud to your littles builds their vocabulary even when they're not yet saying words.  Language is learned first by hearing. It's amazing how little ones respond to inflection in your voice, the sing song rhythm of rhyming words, the noises that animals make. Children love to participate!
I am privileged to have the Mother Goose book that was read to me as a toddler; read so frequently that I memorized the pages and rhymes by the time I was 3. My mother loved to tell people that I was reading at 3. Some reading specialists would say impossible. I'll tell you, we don't know exactly when a child learns to read. It's very mysterious. I taught children to "read" for the first 6 years of my career, have tutored children in older grades and worked with adult literacy. Reading skills can be learned at any age. The love of books is different. The love of books begins at home.
I imagine your local library has a terrific selection of picture books and probably even a story hour! Gather some of your mom friends and make a date to give it a try. Pack snacks or a picnic for afterward and go to a park for playtime and conversation with other moms. We need each other. You'll be tired but you'll probably be encouraged to keep on sharing stories with your children.
So much benefit from the common thread of learning to love books!