I wrote this post 5 years ago before this blog was part of my website. You can check out the original post here (to see what improvements or adjustments I've made.)
I often feel I am not ready.
I want to be. I long to be ready at any moment, but I am easily distracted.
I'm distracted by the dishes, the laundry, the dust, the paperwork. I can't seem to put a routine together because something or someone comes along the Way to change my plans.
Now that we live in a new location, far from friends and family, I can truly say of myself: I can distract myself in a paper bag!
Wait. Watch. Prepare. I want to be available to those in need of a good Word whenever called upon. I study. I pray. I wait. I watch. But still I don't feel ready.
What gets in your Way of being ready?
What are you getting ready for?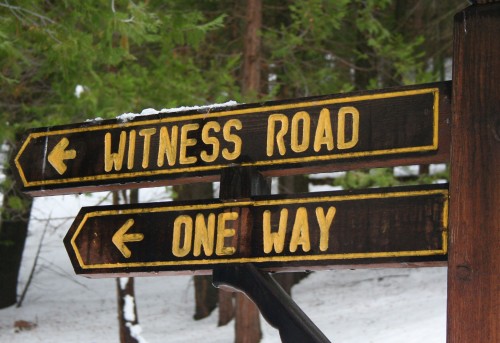 This picture is just a road sign but it struck me and I started thinking about the ways of sharing my faith.
Peter, who walked and talked with Jesus along the Way, tells us to set apart Christ as Lord in our hearts, always being ready to make a defense to everyone who asks you to give an account for the hope that is in you, yet with gentleness and reverence.
Step 1:
We as followers along the Way are to live full of hope as we walk in this world.
We show hope in the Way we struggle, suffer loss, live daily and transparently before others. Jesus is the Way. If we follow His Way we see our paradigm set forth.
The Way is not religion. Religious behavior can distract us from the Way. Religious behavior can get in the way of seeing Jesus. We can think we know how God will act or respond if we just do the right things. Jesus got up in the business of the Pharisees pointing out how they had lost the heart of the Law and only stuck to the Letter of the Law. Jesus shows us the Father, shows us Himself. Jesus didn't heal the same way or pray the same way or meet people's needs the same way throughout the gospels. If we watch carefully we'll see how to follow Him along the Way.
Step 2:
We read His Word to know Him more.
The daily habit of reading God's Word for even 10 minutes can be a tool that He uses to transform your mind and heart little by little as you present yourself a 'living sacrifice'. We're to be more like Jesus tomorrow than we are today. Process.
Step 3:
We spend time together with other Christ-followers to encourage one another to love and good deeds.
Meeting together on Sundays for corporate worship. Having lunch afterward with others. Meeting during the week to study and pray. Sharing chores. Meeting needs. Laughing together. Play dates with children. Serving the community together. So many ways!
This is faith walking. We don't see Jesus face to face yet, but we have His Word, His promises and His Presence in the Holy Spirit to help and guide us along the Way. We have each other in challenging times, if we are living transparently in our challenges.
Getting ready is a life long pursuit. I think being ready is a process that just means being real with where we are along the Way. Keep setting apart Jesus Christ as Lord in your heart by moving yourself off the throne. Keep faith walking. Keep getting ready and you will be ready.
Join me?